The Future Of DOD Innovation Programs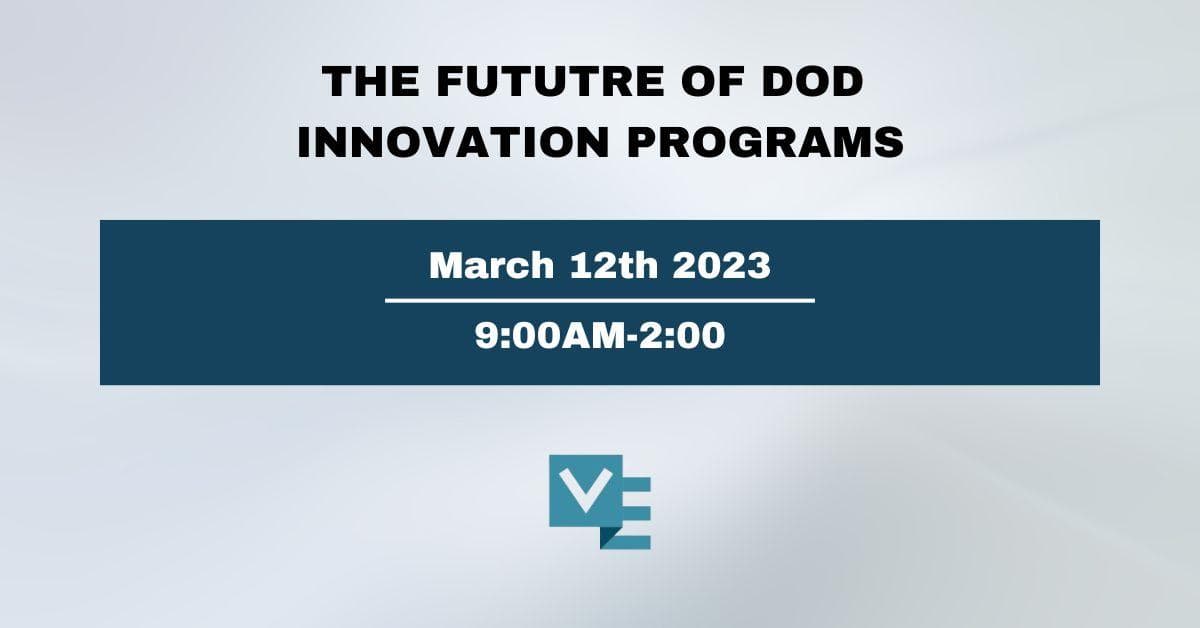 9:00 a.m. - 9:15 a.m. Welcome.
9:15 a.m. - 10:00 a.m. Keynote with Will Roper, Ph.D.
We kick off the day with Dr. Roper, a member of the Defense Innovation Board. A physicist, mathematician, and foreign policy strategist, Dr. Roper was responsible for the Air Force's research, development and acquisition activities totaling an annual budget in excess of $60 billion for more than 550 acquisition programs. He served as the principal adviser to the Secretary and Chief of Staff of the Air Force for research and development, test, production, and modernization efforts within the Air Force.
10:00 a.m. - 11:00 a.m. DoD Innovation Vision.
What's working for the U.S. Army may not be appropriate for the U.S. Navy. The U.S. Air Force's innovation strategy looks different from USSOCOM's. Why have different services evolved their innovation programs differently? How and why do their Innovation Missions differ? What's uniquely great about each approach? Whose ideas are the most worthy of emulation? We speak with the leaders and founders of defense's top innovation programs during this panel to learn how it's done.
Hear from:
COL Elliott "Neo" Leigh, Director, AFWERX and Chief Commercialization Office, Department of the Air Force
Bob Smith, Director, Department of the Navy SBIR/STTR Programs
COL Paul Weizer, USA, Ret., Former Program Executive Officer for SOF Digital Applications, HQ, United States Special Operations Command, Principal Consultant for Redan Strategies LLC
Matthew Willis, Ph.D., Director, HQDA ASA(ALT), Army Prize Competitions and Army Applied SBIR Program, Office of the Assistant Secretary of Acquisition, Logistics, and Technology
Moderated by Adam Rentschler, CEO of Valid Evaluation.
11:00 a.m. - 12:00 p.m. How Innovation Gets Done.
Working with each leader is a team of practitioners designing and running innovation from within. This panel brings together program managers and leaders to share how they combine their skills with the top-cover given by a great leader to push innovation through their organizations. How do they design programs at the nexus of DoD and the private sector? How do they overcome obstacles? What insights have they garnered from building their programs?
Hear from:
Capt. Garrett Custons, USAF, Director, AFWERX Spark Cell
Bonnie Evangelista, Senior Procurement Analyst & Tradewind Execution Lead, Chief Digital and AI Office (CDAO, Acquisitions Directorate
Col Robert "Bert" Giovannetti, Director, Air Force CyberWorx
Zeke Topolosky, Chief, Strategic Partnerships, Army Research Laboratory
Capt. Casey Plew, Director of NavalX, Office of Naval Research
Moderated by Trish Martinelli, Executive Director, Defense Entrepreneurs Forum (DEF)
12:00 p.m. - 1:00 p.m. Private lunch and Standards Working Group: Defining Transition.
Ask three DoD employees what "Transition" is and you'll get ten definitions. We will rapidly prototype a shared definition and leave Austin with a version 1.0 basket of shared Transition metrics. Amanda Bresler, Chief Strategy Officer of PW Communications, provides a data-driven overview of various aspects of Transition to kick off the lunch.
Moderated by Amanda Bresler, Chief Strategy Officer of PW Communications
1:00 p.m. - 1:25 p.m. Keynote with Mr. Young Bang, Principal Deputy ASA (ALT)
Mr. Young Bang was appointed as the Principal Deputy Assistant Secretary, ASA(ALT) in 2022, where he advises the Assistant Secretary for Acquisition, Logistics & Technology and Army leadership on all matters relating to Army acquisition. Mr. Bang previously led the growth and development of high-performing consultancies, bringing private-sector innovation, cutting edge technology, and product development to the Federal and defense markets and the telecom industry. He has served in the Army in various leadership positions, and brings a unique perspective on how DoD innovation can be achieved during this session.
1:30 p.m. - 2:00 p.m. Keynote with VADM Frank Morley, Principal Military Deputy Assistant Secretary of the Navy (Research, Development and Acquisition)
Vice Adm. Frank Morley is the Principal Military Deputy for the Assistant Secretary of the Navy Research, Development & Acquisition. VADM Morley most recently served as the Deputy Assistant Secretary of the Navy for International Programs, and was the Vice Commander of the Naval Air Systems Command. He was recognized as Commander, Naval Air Force Atlantic Ship Handler of the Year and the Department of the Navy Program Manager of the Year, and has more than 3,500 flight hours and 750 carrier arrested landings. He has flown more than 35 different types of aircraft, including the F/A-18A-F, EA-18G, AV-8B, F-14, F-15, F-16 and MiG-29
Stay connected and start using Tradewinds to find opportunities today
Never miss out on opportunities. Login or sign up to get started